Newcastle is linked with a £2m move for Chinese internation defender Sun Jihai from Chinese side Dalian Shide.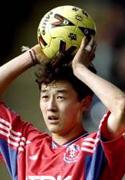 While unconfirmed, the president of Dalian, Xu Ming, claims that talks will be held over a proposed transfer deal for the former Crystal Palace defender.
Newcastle chairman Freddy Shepherd will arrive at Dalian on 22nd this month to negotiate Sun's move." said Xu Ming.
"They held talks with us on Sun's move last season, but we failed to achieve an agreement as there was great difference between us on the transfer fee.
"We will not cut down players' prices just because we would like them to move abroad."
Newcastle have denied being interested in their former trialist Sun, but Freddy Shepherd is due in China latest this month to discuss club business.