Bobby Robson has won the Barclaycard Premiership Manager of the Month award for December.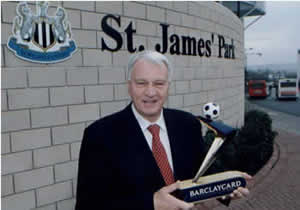 "Despite being the oldest manager in the Premiership, Bobby Robson has not lost any of the enthusiasm and drive that has been the hallmark of his managerial style," a spokesman said of him.
Robson, who joined Newcastle two and a third years ago, certainly deserves the award. He saved Newcastle, who was languishing at the bottom of the Premiership table after a disastrous reign by former manager Ruud Gullit, from relegation. He has also shared many memorable moments at St. James, including guiding Newcastle to the finals of the Intertoto Cup and the quarter-finals of the Worthington Cup. He has also chalked up brilliant wins over Premiership big guns Arsenal, Leeds and Manchester United.