Kieron Dyer has suffered a minor setback to his shin problem.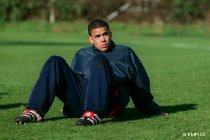 Dyer, who had made a comeback to first-team action on last week's match against Ipswich, complained of a sore shin during training on Monday. Manager Bobby Robson feels that these renewed shin pains could be due to the cold weather affecting the metal rod in his leg.
"Kieron came off the pitch at Ipswich triumphantly because he had appeared back in a Newcastle shirt and done everything we asked of him, and we won," Robson said."
"But he has been complaining about soreness in his shins again. We think he will have days like this."
"He has a metal rod in his leg from his operation and the physios tell me these things can be affected by the weather. He certainly hasn't taken a whack on it or anything like that."
"Maybe he has got some frost bite in the rod. The way he has been he will be doubtful, which is a pity."