Feyenoord chairman Jorien van den Herik has admitted he is prepared to talk to any team interested in Brett Emerton, but stated he has no intention of selling the Australian midfielder this season.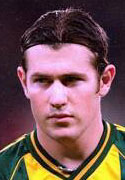 Newcastle and Leeds are two clubs linked with Emerton. Newcastle boss Bobby Robson will be looking for someone to replace veteran midfielder Robert Lee, who is set to leave Newcastle at the end of the season.
van den Herik said on Feyenoord's official website: "A number of English clubs have been in touch with Feyenoord about Emerton through agents," said van den Herik. "But we have not entered into negotiations with any club, including Leeds United.
"It is possible that we will talk if a club asks to talk, that is only usual, but we have no intention whatsoever of letting him go this season.
"It will have to be a very tempting offer if we are even to consider it for the 2002-2003 season," he added