Nolberto Solano has insisted United can win the Premiership title - contrary to what Bobby Robson believes.

Winger Solano also maintains The Magpies can perform an almost equally tough task - winning in London for the first time in 30 games tonight at Arsenal.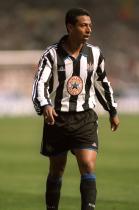 While Robson is ridiculing all talk of Newcastle challenging for the championship, Peruvian international Solano said: "It will be very hard to win the league but we have to believe we can do it.

"We're playing very well and if we work hard, it's definitely possible. This is the best Newcastle team I've ever played in.

"If Blackburn can do it, so can we. We've just got to keep going.

"Newcastle have been close to the league title a couple of times but we have been in mid-table for the last couple of seasons.

"Now we're back in a strong position again and want to stay there."