The Australian striker appeared to catch Nikos Dabizas with an elbow in the 14th minute which left him with a broken nose, but escaped with a warning and then a yellow card when he felled him with a late tackle in injury-time which saw the Greek defender stretchered off.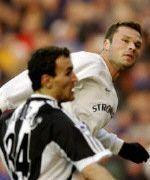 Robson, who said Dabizas had abrasions down his leg from the challenge and is doubtful for the Boxing Day clash with Middlesbrough, said he was unhappy referee Jeff Winter failed to send Viduka off.
Robson said, "Overall he (the referee) gave a fairly consistent performance but he has failed to send Viduka off,"
"It's a red card, it's direct, it's violent.
"He was lucky with the first challenge on Dabizas who has had his nose broken from that challenge.
"But he has only given one yellow card for two violent offences. The boy is a fine lad - I don't want to criticise him at all.
"He's more than a wonderful player but he's extremely lucky to have played this match.
"Had he gone from villain to hero today and at one point that looked like being the case then I would have been very bitter about it. I am not so bitter now because we have gone on and won it, but he shouldn't have been on the pitch."